By Sarah McKenzie
In August this year, my Sydney teammates and I travelled to Singapore to visit our regional office (the headquarters of M&C's sister company, Gemstar Technology) for the first time. We spent a whirlwind of a week in this incredible city, engaging in a range of team-building workshops, visiting iconic tourist attractions, eating delicious local cuisine and the ultimate highlight – venturing to Lazarus Island on a yacht!
Day 1: I arrived in Singapore Saturday evening somewhat groggy and disorientated after 8.5 hours on the plane. A kind stranger pointed out to me that not only was I not allowed to eat on the train (whoops), I had miscalculated my train route to South Bridge Rd. The mishaps continued when I started walking in the wrong direction while trying to find my accommodation. On the plus side, I happened to stumble across the Gemstar office from the outside, recognising it by the distinctive yellow shutters. I was very excited to glimpse it in real life!
Once I'd settled into my accommodation, conveniently located across the road from Chinatown, I headed out to try some local cuisine. I found a quiet little Vietnamese restaurant on the fringe of Chinatown with vegetarian options, and munched away happily on some spring rolls and fried rice. I also tried a Vietnamese coffee in a drip pot for the first time. It was possibly the thickest, strongest coffee I've ever tasted!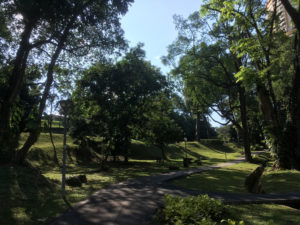 Day 2: On Sunday, I woke up early and set off to explore Chinatown more thoroughly. Little did I know that the shops wouldn't open till 11am! The laneways were deserted, with tarps pulled down over the stalls. I did, however, spot some early morning risers like myself on their way to a wedding in beautiful saris.
After briefly checking out a Buddhist temple, I decided to walk to Pearl's Hill City Park for some downtime. The park was elevated above the road and lined with big, old trees: a quiet oasis amidst the hustle and bustle of the city.
I then ventured to the People's Park Complex, famous for its mishmash of food vendors, multi-storey commercial shops, and the key reason I was there: its remedial massage parlours and beauty salons.
I treated myself to my first ever pedicure and remedial foot message. When in Singapore, right?! I felt so relaxed afterwards. I then headed to the hotel where Prue, Bianca and I were staying throughout the working week, located in chilled-out Robertson Quay.
Day 3: Monday kicked off the working week at the Gemstar office! It felt so surreal that we were really in Singapore, and soon to be walking through the door of the office we had only ever seen in photos.
Gemma, Martin and Victor welcomed us with open arms. We were extremely excited to meet Victor, our Client Services Manager, as we had only ever spoken to him on Skype! It's amazing to think that our team is so close-knit, despite being spread across different geographies.
We also had the opportunity to meet Phil Forest, the Non-Executive Director at Gemstar. He was such a down-to-earth person. Phil provided us with some key insights into the business culture in Singapore, which I found really fascinating. The top 5 learnings I took away from Phil's presentation are:
Be humble and modest.
Give people your full attention when you're talking to them. Don't look around the room.
Business cards are very personal and special etiquette applies to the way you give/receive your card (e.g. never write on someone's card).
Keep calm – never lose your cool.
Names can be complicated in such a multicultural country. If in doubt about someone's first/last name, ask them to clarify how you should address them.
Day 4: Tuesday and Wednesday involved an array of team workshops, brainstorming activities and of course, business as usual, answering emails and writing/editing content for our clients back in Sydney.
While in the office, we snacked on some Singaporean salted egg yolk chips and ice gem biscuits. Both days we had a delicious team lunch at nearby Asian-blend restaurants, which were always buzzing with life. I had a vegetarian noodle soup, fried rice and curry puffs, all of which were spicy and mouth-wateringly tasty.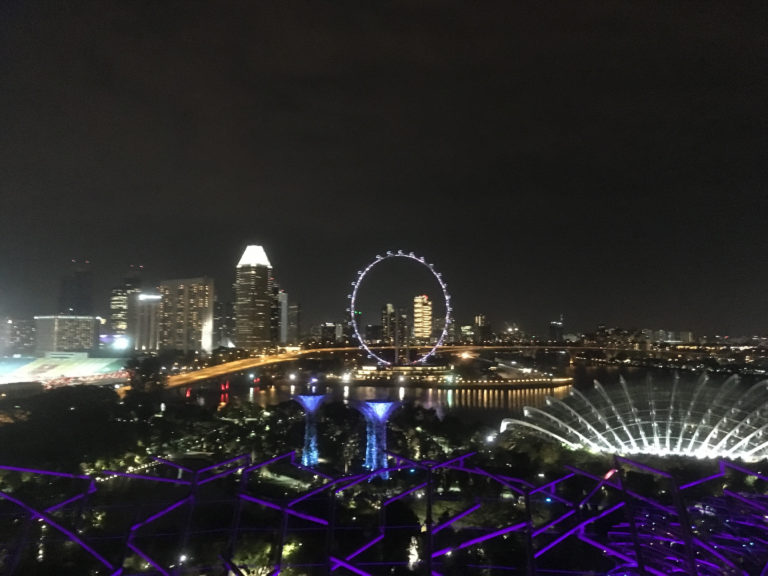 Day 5: On Wednesday afternoon, we embarked on a Foodie Tour in the quaint Changi district of Singapore. We toured some local businesses, visiting a maker of traditional popiah; a tea shop and seller of all things durian-flavoured; an Indian restaurant; and the local Malaysian hawker centre.
We learnt how to make our own popiah (a rice roll wrap) and ate yummy Kueh Pie Tee. We tried a variety of traditional teas and Cat King Mountain durians, which apparently you either love or hate. Durians taste a bit like stringy coconut and mango blended together – and boy, do they have a strong odour…!
We also attempted to learn how to flip Roti Prata, but I couldn't seem to master it *sigh*. I loved the taste of Putu Piring (steamed rice flour with palm sugar in the centre) and squishy green Ondeh Ondeh (a sweet that bursts in your mouth). After finishing off the tour with Satay and Pisang Goreng (fried banana) and Kueh Salat (glutinous rice in coconut milk, with a layer of pandan custard), I couldn't possibly eat another thing!
Day 6: Thursday was our amazing trip to Lazarus Island. We boarded a luxurious yacht at the Port of Singapore and sailed off towards the island. Along the way, we had an interesting view of the industrial side of Singapore. There was a lot of boat maintenance going on, cranes looming above us and shipping containers galore.
When we arrived at Lazarus Island, we had a great time jumping off the bridge into the harbour! It felt as though we were visiting a remote tropical island, yet we were only a short distance away from the city. Prue and Bianca even embarked on an adventurous canoe trip to a nearby beach!
Days 7 & 8: Friday was a winding down day at the office. Saturday entailed last-minute sightseeing amidst the vibrant colours of Little India and wandering amidst the lush greenery of Singapore Botanical Gardens (a World Heritage Site), which has the largest collection of tropical orchids in the world. I was so absorbed in watching the turtles and koi in the pond that I was almost run over by man in a golf cart!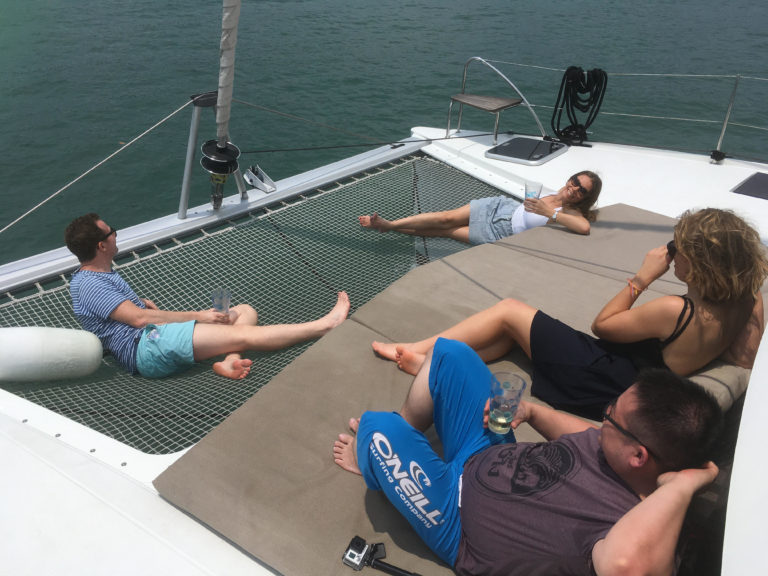 Overall, I had a fantastic and unforgettable week in Singapore! A big thanks to Gemma and the team for making it happen.
To watch our awesome Singapore video, click here.
 See you next time, Singapore!